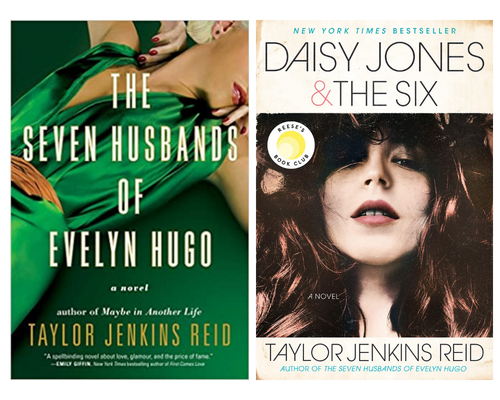 Taylor Jenkins Reid is a very popular author and I can see why. She truly has a knack for crafting evocative fictional memoirs of fictional famous people that feel so real. Last year I read Malibu Rising and this year I finally got around to The Seven Husbands of Evelyn Hugo and Daisy Jones & The Six.
The Seven Husbands of Evelyn Hugo tells the story of a 1960's starlet's rise to fame and the secrets she keeps to save herself and the people she loves. I found Evelyn's story dynamic and riveting, I truly never knew where it was going–but I was mildly annoyed by the framing device. Hugo is telling the story to a journalist and I was so uninterested in those parts. I also hated the twist ending.
Alma Cuervo and Robin Miles provide a majority of the narration and I thought they worked well together as both the young and older Evelyn.
I remember the year Daisy Jones and The Six came out. You couldn't say the word audiobook without having this recommended. This book is formatted like oral history and details the titular band's meteoric rise to fame followed by a Rascal Flatts-esque falling out.
This is a star-studded full-cast audiobook and it was a bit overwhelming having so many voices coming at me at once. It took me about 50% in to settle into the story and get the characters straight–Eddie and Warren especially melded together for a while. I thought Jennifer Beals as Daisy Jones and Judy Greer as the band's drummer Karen were real standouts.
Again, I was kind of meh on the little twist at the end. It really didn't make sense in the context of the book.
TJR has recently faced more criticism for writing Latina main characters and I think it's a fair criticism. I'm not sure why she's constantly trying to write POC because her books are very much about a specific type of white American popular culture. I don't think she is someone who spends time with POC outside of white dominated spaces.  I think that's why Malibu Rising is her strongest book for me.
I'm a lifelong reader who started blogging about YA books in 2011 but now I read in just about every genre!  I love  YA coming of age stories, compelling memoirs and genre bending SFF. You can find me talking all things romance at Romance and Sensibility.