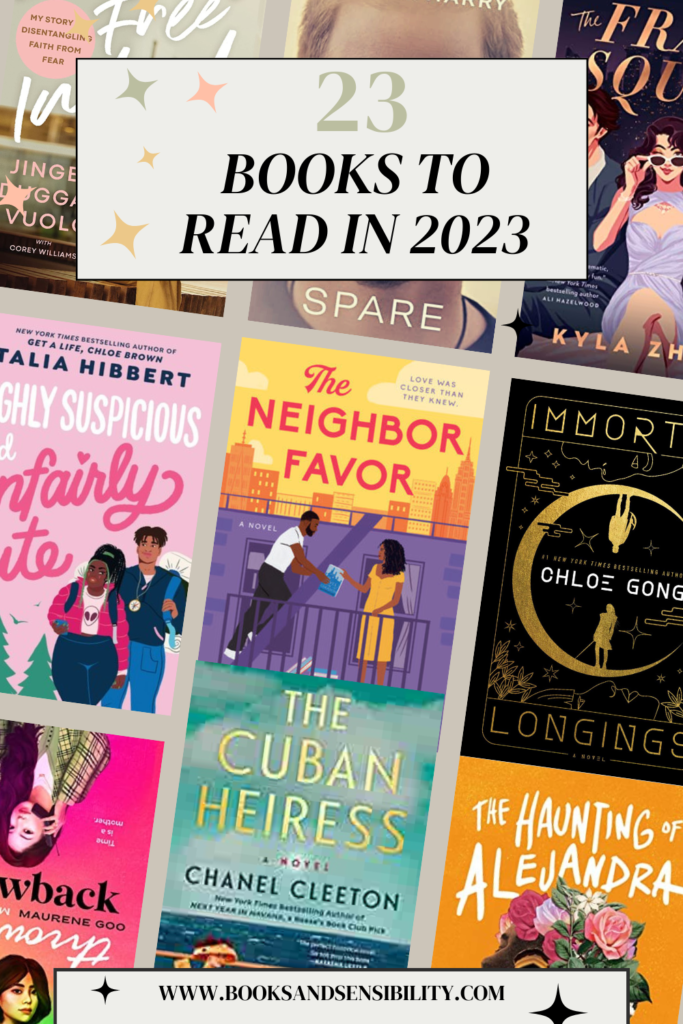 Note: Several of the books in this list are published by HarperCollins. Please note that the HarperCollins union has been on strike since 11/10/22 to get a fair contract for their workers. Visit https://linktr.ee/hcpunion to learn more.
January
1. Highly Suspicious and Unfairly Cute by Talia Hibbert
This beloved romance author's YA Debut
2. The Fraud Squad by Kyla Zhao
Love a good con story
3. The Spare by Prince Harry
I feel like there will be nothing too ground-breaking in this but I"m curious to learn more about what it's like being so high up in the Royal Family.
4. Becoming Free Indeed by Jinger Vuolo
A Duggar speaks out
February
5. The Neighbor Favor by Kristina Forest
I have high hopes for this one!
6. I Have Some Questions for You: A Novel Hardcover by Rebecca Makkai
A podcaster revisits a crime from her past
March
7. The Witch and the Vampire
This cover is stunning!
8. The Family Fortuna by Lindsay Eagar
A dark YA Fantasy with a circus
9. Clytemnestra A Novel by Costanza Casati
I haven't read a greek retelling and I fFEEL like I rememer this story.
10. The Mostly True Story of Tanner & Louise' by Colleen Oakley
A heist story ? Sign me up
April
11. The Blood Gift (The Blood Gift Duology, #2)
Reading the first one now
12. The Last Heir to Blackwood Library by Hester Fox
A Magic library in 1910's England
13. The Haunting of Alejandra By V. Castro
Horror Novel based on La Llorona
14. Role Playing by Cathy Yardley
Excited to see romance starring middle age folks!
15. Throwback by Maurene Goo
In this YA book, a teen travels back to the 90s to team up with her teenaged mother. Ever since I read This Time Tomorrow this year, I've been on the hunt for something similar.
16. The Cuban Heiress Paperback by Chanel Cleeton
I just finished watching 1899 so I'm up for a historical story set ON A BOAT
17. Romantic Comedy: A Novel by Curtis Sittenfeld
I'm curious how a literary author like Sittenfield will approach a rom com
June
18. Pageboy: A Memoir: by Eliot Page
Love a good celeb memoir
19. Psyche and Eros by Luna McNamara
Greek retellings are so popular right now

July
20. Silver Nitrate by Silvia Moreno-Garcia
This sounds really scary and reminds me of The Last Movie podcast.
21. Under This Forgetful Sky by Lauren Yero
The blurb for this book mentions Laini Taylor, so I'll give it a try!
22. Immortal Longings by Chole Gong
Curious to see how Gongs' adult debut goes
October
23. Alecto the Ninth (The Locked Tomb, #4) by Tamsyin Muir
I still gotta work my way through #3