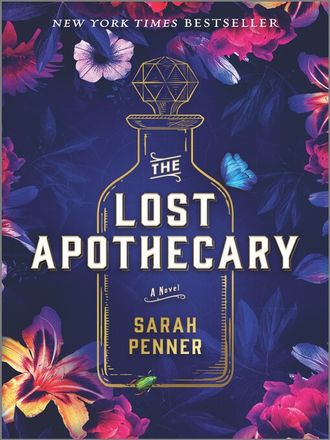 10 Hours 18 Mins | Harper Collins | 03/02/2021
The Lost Apothecary was one of the first books I saw all over TikTok and decided to give the audiobook a listen. This book travels through time as an American tourist unravels the mystery of a nameless apothecary who dispenses poison and justice to women in need.
Caroline's solo trip to England is the result of a deeply troubled marriage. A chance discovery leads her deep into the forgotten historical record of an 18th-century apothecary who dispensed deadly poisons to women in a time period when had very few options for justice.

I thought this book was going to be based on Italian poisoner Giulia Tofana–whose story I first heard on Baily Sarian's true crime channel–but his book appears to be a wholly original creation. In an interview, Penner says she wasn't even aware of Tofana until after her book was sold.

The book switches back and forth between the present-day and 18th century and I did find myself more drawn to the story of the titular lost apothecary–Nella Clavinger. Nella's a weary woman whose deadly work has begun to impact her own health. Nella is as morally-gray as it gets, she creates her own rules to justify dispensing poison but one small mistake threatens to reveal her deadly operations. Caroline's present-day story was the least interesting to me and it just didn't match the extensional dread and suspense happening in Nella's story

The book features three new to me narrators Lorna Bennett, Lauren Anthony, Lauren Irwin.  Lorna Bennett was the scene-stealer for her portrayal of Nella She was able to add a weariness to her voice that perfectly embodied the overworked and ailing apothecary