Last month we headed to The Graduate Hotel Richmond to par-tay…and by party, I mean read books!
I'd read about the Silent Reading Party in and wanted to see what it was all about. The reading parties are organized by Richmonder Sarah Choi, and in the year she's been hosting the event it has really taken off. I woke up bright and early at 6:30AM the day ticket went on sale to make sure I got two tickets for Jess and I to attend. I was glad I did because the 50 tickets were sold out in less than a minute. I just think that's so amazing that people are vying for tickets just to sit and read.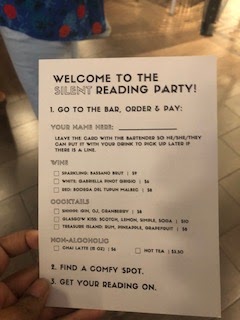 The day of the party we arrived early and from the moment you walk into the reading space, there is no talking. Sarah greeted the readers with a silent wave and we were given cards to take to the bar to order our drinks. I got the Treasure Island cocktail. It was good but maybe not what I needed–I'm more a caffeine drinker when it comes to reading beverages.
The reading venue was the lobby of a boutique hotel in downtown Richmond. I liked that there was some hustle and bustle from the lobby so it wasn't totally silent. Sitting in a space with a bunch of people quietly reading was such a surreal scene to be apart of, you sort of feel like you are in an interactive art exhibit. There was an array of readers from all age groups reading on everything from physical books to e-readers to iPads.
Speaking of books, I was a total nerd about it and bought two books. I read some of Broken Girls by Lauren Oliver and two stories in Hungry Hearts anthology. Jess took along A Conjuring of Light by V.E Schwab and Polaris Rising by Jessie Mihalik
I have a short attention span when it comes to reading so we left after about an hour and half–which was fine because participants can come and go as they please.
Overall, I thought it was a cool event and it was fun to go to a place in the city that I wouldn't normally visit. I also just love that people are excited about reading! I totally see myself going again when I need to carve out some dedicated reading time.
1/2 of the blogging duo at Books and Sensibility, I have been blogging about and reviewing books since 2011.  I read any and every genre, here on the blog  I mostly review  Fantasy, Adult Fiction, and Young Adult with a focus on audiobooks.