It's that time of the year again where we prep for another year of reading by making our list (and checking it twice!) of books we want to read in the new year.
1.The Wicked King by Holly Black
I've never been more invested in a YA fantasy series since Daughter of Smoke and Bone. I can't wait to see where Black is going with this – Kat
2. Black Enough edited by Ibi Zoboi
An anthology of stories from some of the hottest YA authors spanning the Black American experience – Kat
February
3. Rayne & Delilah's Midnite Matinee by Jeff Zentner
Coming of age YA novel about a pair of teens with a public access television show. Time to see what gut punch Zetner has in store this year – Kat
4. The Opposite of Always by Justin A Reynolds
High school senior Jack gets a chance to go back in time and stop his girlfriend's death – Kat
5. Comics Will Break Your Heart by Faith Erin Hicks
This debut YA novel from an award-winning graphic novelist follows two families in a legal battle over the ownership of a comic – Kat
6. Naturally Tan by Tan France
A memoir from the resident fashion expert on Netflix's Queer Eye and the first openly gay Muslim man on television – Kat
March
7. Squad by Mariah MacCarthy
This YA novel follows a high school cheerleader who has to find what life is like without cheerleading. MacCarthy is a playwright and feminist life coach so I'm really curious what her take on this story will be – Kat
April
8. A Prince On Paper by Alyssa Cole
A modern-day wallflower becomes the fake fiance for a playboy step-prince – Jess
9. The Princess and the Fangirl by Ashley Poston
The sequel I didn't know I was waiting for to Poston's funny fandom romcom Geekerlla – Jess
10. We Hunt The Flame by Hafsah Faizal
A fellow YA book blogger on the come up with a debut fantasy – Jess
11. Pride Prejudice and Other Flavors by Sonali Dev
An arrogant surgeon finds her match with a chef ready to prove there is more to him than just his pedigree – Jess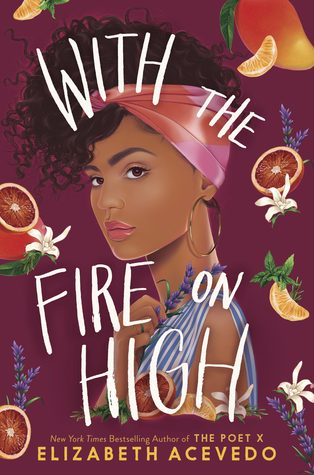 12. With The Fire On High by Elizabeth Acevedo
This book has a vibrant cover and the heroine is a teen mom who is a talented cook with dreams of working in a kitchen – Jess
13. The Bride Test by Helen Hoang
In this companion to The Kiss Quotient, a Vietnamese mother brings her autistic son a wife from Vietnam who shows him there is more than one way to love, – Jess
June
14. Red, White and Royal Blue by Casey McQuiston In this enemies to lovers romance, the First Son of the USA and the Prince of Wales stage a fake friendship that turns into something more – Kat
15. Evvie Drake Starts Over by Linda Holmes Pop Culture Happy Hour host, Linda Holmes' debut romance novel about love, family and baseball – Jess
July
16. Wanna Be Where You Are by Kristina Forest
A ballerina sets off on a road trip to secretly audition at a dance conservatory and her neighbor tags along. Guys, not only is this the type of book I would have read in high school, this is the book I would have written in high school – Kat
August
17. The Demon World by Sally Green
The sequel to the Smoke Thieves one of the few YA fantasy novels to catch my attention – Jess
18. The Wallflower Wager by Tessa Dare
I inhaled The Governess Game and The Duchess Deal so imma need this – Kat
November
19. The Starless Sea by Erin Morgenstern
I've done my waiting. 8 years of it – Kat
1/2 of the blogging duo at Books and Sensibility, I have been blogging about and reviewing books since 2011.  I read any and every genre, here on the blog  I mostly review  Fantasy, Adult Fiction, and Young Adult with a focus on audiobooks.