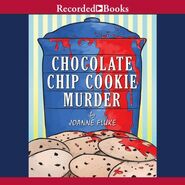 You'd think after reading seven In Death books about the surly and biting New York City detective Eve Dallas that reading about Hannah Swenson, a sleuthy cookie shop owner in a small Midwest town, would be a cake–er–cookie walk
And it is.
But the more I thought about it the more I realized that Hannah Swenson is pretty scary. Cause when the local milkman is found shot in an alley Hannah (because her brother-in-law is investigating) gets swept up in the case as she finds clues, makes connections and solves the murder !
Hannah does all of this on the down low because I guess that's a trope of cozies ? I honestly don't know. I mean it's just kind of strange that she just waltzes around with her bags of cookies and bribes people into telling her their secrets and alibis. People seem to tell her EVERYTHING while she's loading them up with carbs. No one questions why she is so nosy. I'm pretty sure her curly red hair is so big because of all the secrets
Honestly, the book just didn't do it for me plot wise. It felt like the whole plot was a checklist of ruling out possible suspects with a few "humorous" interludes for transitioning. I got kind of confused keeping track of all the names.
The performance was pretty solid, but the editing on the audiobook was spotty in some places. When I put my earbuds in I could hear the edits and the narrator swallowing.
While this mystery didn't hit my sweet spot I certainly can't wait to try my hand at making some chocolate chip crunches.
1/2 of the blogging duo at Books and Sensibility, I have been blogging about and reviewing books since 2011.  I read any and every genre, here on the blog  I mostly review  Fantasy, Adult Fiction, and Young Adult with a focus on audiobooks.