Join Kat as she reads the works of YA author, David Levithan from his debut novel to his National Book Award shortlisted novel, Two Boys Kissing. See more here !
I'm pretty sure David Levithan has more "and" credits than any other YA author. He has co-written with popular YA authors including; Brian Selznick, John Green and Andrea Creamer. I'll be exploring these books in the next few weeks, but I'm starting with his most frequent partner in crime; Rachel Cohn, a veteran YA author herself.
Cohn and Levithan write stories that are all about romance and love, but their unique storytelling methods bring something new to the genre. Their writing aesthetics work wonderfully together and I really hope we see more from them in the future. This week I have reviewed the audiobook versions all of their collabs.


Nick and Norah's Infinite Playlist (2006)

"The Cure. For the Exes ? I'm sorry, Nick. You know. Will you kiss me again ?"
This the first and maybe most well known Cohn and Levithan collaboration thanks to the 2008 film adaptation. This book tells the story of two straight edge (no drugs, no alcohol) Bridge and Tunnel 18-year-olds fresh off breakups. Nick is the guitarist and only straight member of a queercore band currently called the Fuck Offs and Norah is the daughter of a music executive who self proclaims she can be a badass and an insufferable music snob. They meet at a NYC punk club when Nick needs a pretend girlfriend and end up spending the night together.Cohn and Levithan switched off writing chapters and from interviews it looks like they never knew where the story was going until the other one sent in a chapter. I could kind of feel this because the story did wander at times.In the audio I really loved Norah's narrator, Emily Janice Card, when I looked at the physical book I saw there were a lot of ALL CAPS THOUGHTS! from Norah which were interpreted well. Nick's narrator, Kirby Heyborne, is a favorite narrator for me and did an amazing job as well. While the audiobook is good you do miss some of the more stylistic pieces of the narrative. Like when a character named Thom tells Norah his name is with an H, so Norah refers to him a Thom or how Nick refers to a the drag queen/bouncer at a club as Tony/Toni/Tone because he isn't sure which one it is.But, I have to say I think Cohn's Norah came off as a more complex and interesting character than Levithan's Nick. He just didn't have much personality beyond being a nice guy who kept getting dumped by his exes. Norah was a mix of snark, angst but also very vulnerable. In the span of the book we get a picture of here as a student, daughter, friend and girlfriend and we don't get that from Nick.Nick and Norah is an excellent story, edgy and fun with all the buzz and excitement of potential love.
Naomi and Ely's No Kiss List (2007)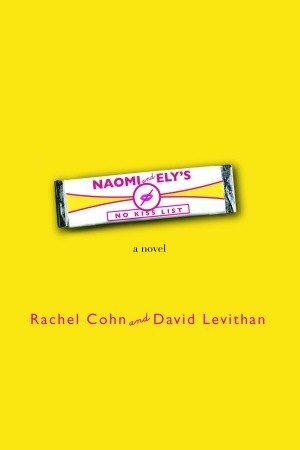 "Ely, I want. You, me, the rest of it. I want someone to make it work, and I don't know if it can be me. Because I'm so uncool and so afraid."
I feel like this is the Cohn and Levithan collaboration that you hear the least about and has some less-than-stellar review on Goodreads, but it was my absolute favorite of the three.

NYU freshman Naomi and Ely have been best friends and neighbors their whole lives. Born and raised in the Greenwich Village they have done it all and seen it all. Their more than friends less than lovers relationship seems impenetrable until Ely kisses Naomi's boyfriend, Bruce the Second. Naomi is heartbroken, but not for the reasons you think…she's mad because she is in love with Ely.

Unlike Nick and Norah, where the authors each took a POV, this novel has multiple character POVs and each author just took a turn writing a chapter alternating between whichever character they felt came next.

The titular characters, Naomi and Ely, are both the life of the party and ultra confident characters and it's interesting to see these characters also deal with their insecurities as they discover life apart from each other. We get to see this relationship break up not only from Namoi and Ely's perspective, but the perspective of a wide set of side characters.

This full cast audiobook is pretty amazing. I'll admit, I'd probably like this book less if it wasn't for the audio. Cassandra Campbell, who does Naomi is becoming one of my favorite female narrators because she does male voices well. I actually liked her Ely, better than the narrator (Kirby Heyborne, I believe) who did Ely.

This book seems to have a lot of negative reviews from readers and I can see why, the characters are all pretty unsympathetic and the plot relies on Naomi not being able to get over the fact that Ely is gay, which is kind of annoying. Also there is a lot of f-bombs in this book. In 230 pages it is dropped 50 times ( I checked the ebook) and I'm sure it's even more in Nick and Norah.

Less of a romance more of a relationship story about how we relate to ourselves and the people around us.
.
Dash & Lily's Book of Dares (2010)
"Please return the notebook to the handsome gumshoe wearing the Fedora hat."
Dash and Lily are two very different New York City teenagers whose lives become entangled by a red Moleskine notebook.Together they search for the meaning of family, love and the power of words.
I reviewed this book last year, the full review can be found here. This is last book currently published from the duo. This book is interesting for a lot of reasons, but I think it's kind of fun how both Levithan and Cohn are Jewish, but wrote a really great Christmas story.
After reading the other two books, I've noticed that in this novel, Levithan and Cohn seem to have wondered away their usual character profiles. Levithan's Dash is a loner, straight laced and introverted as opposed to his usual stuck in the middle of it all characters. Cohn trades her usually angsty, outspoken females for the cheerful and slightly manic pixie dream girl Lily. We also get a lot more family relationships in this book than we have seen previously.
The audiobook narrators do a great job in the audiobook, but I felt like at time Lily's narrator sounded a little whiny and like a little kid at times.
References
All of these books are connected by the writing on the bathroom wall in a club each character visits.
The relationship between Lily's brother, Langston and his ex is similar to the relationship of Noah and his ex in Boy Meets Boy.
Dash and Lily bring back Klezmer music, which comes up in Are We There Yet ?
I'm a lifelong reader who started blogging about YA books in 2011 but now I read in just about every genre!  I love  YA coming of age stories, compelling memoirs and genre bending SFF. You can find me talking all things romance at Romance and Sensibility.