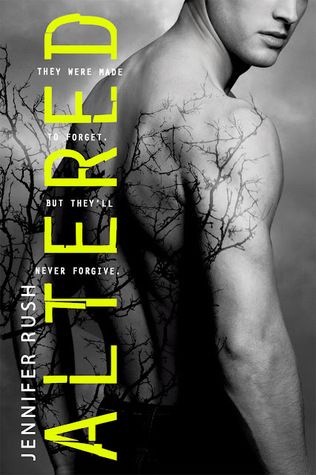 Publisher: Little Brown, Books for Young Readers
Release Date: January 1st 2013
Synopsis: Everything about Anna's life is a secret. Her father works for the Branch at the helm of its latest project: monitoring and administering treatments to the four genetically altered boys in the lab below their farmhouse. There's Nick, Cas, Trev . . . and Sam, who's stolen Anna's heart. When the Branch decides it's time to take the boys, Sam stages an escape, killing the agents sent to retrieve them. Now on the run, Anna soon discovers that she and Sam are connected in more ways than either of them expected. And if they're both going to survive, they must piece together the clues of their past before the Branch catches up to them and steals it all away
Altered isn't a book I'd usually pick up since I'm more of a contemporary/dystopian reader, but when Jennifer Rush came to a signing near me, I went ahead and bought a copy. One of the first things Jennifer said was that she writes for the boys. And it's pretty obvious what she means by this once you get into a book.
In the basement of Anna Mason and her father's farmhouse, four boys suffering from amnesia are confined to glass cells. The boys are being held there by The Branch, the clandestine organization her father works for.
Anna has gotten used to this life and the boys in her basement with their secrets, she even befriends them as she assists her father in the lab. But when it is time for the Branch to take boys to leave. She suddenly finds herself in the middle of an adventure bigger than she imagined.
This is the first book I've read in the science fiction-y type YAs that seems popular this year. The novel has a very cinematic, action movie like story structure. The characters just kind of hop from place to place leaving destruction or fight scene in their wake as they search for answers. It reminded me a lot of the Paycheck (Has anyone else seen this one ?) or the Wolverine movie.
The boys in this novel are pretty much pick your flavor, you have the love interest Sam, the alpha male and leader, Cas the comic relief, Trev the sensitive guy and Nick, the brooding mean one. Anna starts out pretty generic in the beginning, but towards the end of this novel she gets some interesting character development.
I think this book wrapped up nicely, so I was kind of surprised that this is a series, but the next book Erased is set to come out June 2014.
Filled with plot twists and adventure, Altered is an entertaining YA novel.
Better World Books | Amazon| Barnes and Nobles
I'm a lifelong reader who started blogging about YA books in 2011 but now I read in just about every genre!  I love  YA coming of age stories, compelling memoirs and genre bending SFF. You can find me talking all things romance at Romance and Sensibility.