1. Fuse By Julianna Baggot (Pure #2)
Synopsis: When the world ended, those who dwelled within the Dome were safe. Inside their glass world the Pures live on unscarred, while those outside—the Wretches—struggle to survive amidst the smoke and ash. . .An epic quest that sweeps readers into a world of beautiful brutality, Fusecontinues the story of two people fighting to save their futures—and change the fate of the world.
I can't even begin to tell how awesome the Pure ensemble audiobook was. I can't wait to see how this dark apocalyptic novel continues. – Jess
2. Clockwork Princess by Cassandra Clare
Synopsis:If the only way to save the world was to destroy what you loved most, would you do it? The clock is ticking. Everyone must choose. Passion. Power. Secrets. Enchantment.Danger closes in around the Shadowhunters in the final installment of the bestselling Infernal Devices trilogy
Can't wait to see how this series ends. – Jess
3. The Moon and More By Sarah Dessen
There isn't a synopsis yet ):
So excited for a new Sarah novel -Jess
4. Unbreakable by Kami Garcia


(No cover yet)
Kennedy Waters' entire life changes when she finds her mother dead and discovers she is a member of a secret society formed two hundred years ago to protect the world from a powerful demon determined to find a way out of his dimension and into ours, and from the dangerous spirits he controls.
I liked Beautiful Creatures and I'm super curious to see what this Beautiful Creatures author can do solo. – Kat
5. Severed Heads, Broken Hearts by Robyn Schneider
Golden boy Ezra Faulkner believes everyone has a tragedy waiting for them—a single encounter after which everything that really matters will happen. His particular tragedy waited until he was primed to lose it all: in one spectacular night, a reckless driver shatters Ezra's knee, his athletic career, and his social life.
I recently discovered Robyn's YouTube channel and I love her personality.The plot of this novel sounds very John Green-esque and I always enjoy a great contemporary. – Kat
6. Let the Sky Fall by Shannon Messenger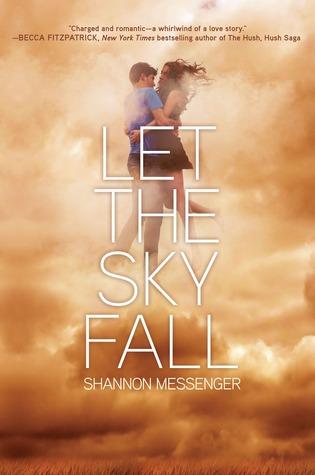 Seventeen-year-old Vane Weston has no idea how he survived the category five tornado that killed his parents. And he has no idea if the beautiful, dark-haired girl who's swept through his dreams every night since the storm is real. But he hopes she is.
I've had this bookmark lying around forever and the concept of this novel sounds very unique – Kat
7. Game (Jasper Dent #2)
When a desperate New York City detective comes knocking on Jazz's door asking for help with a new case, Jazz can't say no. The Hat-Dog Killer has the Big Apple–and its police force running scared with no leads. So Jazz and his girlfriend Connie hop on a plane to the big city and get swept up in a killer's murderous game.
I loved I Hunt Killers and I really can't wait to see how the story continues




8. Invisibility by Andrea Creamer and David Levithan
Stephen has been invisible for practically his whole life — because of a curse his grandfather, a powerful cursecaster, bestowed on Stephen's mother before Stephen was born. So when Elizabeth moves to Stephen's NYC apartment building from Minnesota, no one is more surprised than he is that she can see him
I've heard amazing things about Andrea Creamer and I always enjoy David Levithan's work, so I can't wait to see what these two do together.
9. Paper Valentine by Breena Yovanoff
For Hannah, the summer is a complicated one. Her best friend Lillian died six months ago, and Hannah just wants her life to go back to normal. But how can things be normal when Lillian's ghost is haunting her bedroom, pushing her to investigate the mysterious string of murders?



First of all: That cover. Totally unique. This novel sounds like it will be a chilling read and I think it's a standalone.





10. This is What Happy Looks Like by Jennifer Brown
When teenage movie star Graham Larkin accidentally sends small town girl Ellie O'Neill an email about his pet pig, the two seventeen-year-olds strike up a witty and unforgettable correspondence, discussing everything under the sun, except for their names or backgrounds.


I enjoyed The Statistical Probability of Love at First Sight and Smith's 2013 novel sounds really cute.
11. Breaking Glass by Liza Amowitz
On the night seventeen-year-old Jeremy Glass winds up in the hospital with a broken leg and a blood alcohol level well above the legal limit, his secret crush, Susannah, disappears. When he begins receiving messages from her from beyond the grave, he's not sure whether they're real or if he's losing his grip on reality. Clue by clue, he gets closer to unraveling the mystery, and soon realizes he must discover the truth or become the next victim himself


I meet Lisa at BEA so I'm excited for her debut. I also want to read more contemps in 2013.


12. Things I Can't Forget by Miranda Kenneally
Kate has always been the good girl. Too good, according to some people at school—although they have no idea the guilty secret she carries. But this summer, everything is different…This summer she's a counselor at Cumberland Creek summer camp, and she wants to put the past behind her. This summer Matt is back as a counselor too. . . Kate used to think the world was black and white, right and wrong. Turns out, life isn't that easy…
We've been a supporter of Miranda since her debut novel and we are excited to see her 2013 novels.
13. Prodigy by Marie Lu (Legend # 2)
June and Day arrive in Vegas just as the unthinkable happens: the Elector Primo dies, and his son Anden takes his place. With the Republic edging closer to chaos, the two join a group of Patriot rebels eager to help Day rescue his brother and offer passage to the Colonies. They have only one request—-June and Day must assassinate the new Elector.


Legend was a delightful dystopian so I can't wait to see what happens next.
What books are you waiting for in 2013 ?
.
1/2 of the blogging duo at Books and Sensibility, I have been blogging about and reviewing books since 2011.  I read any and every genre, here on the blog  I mostly review  Fantasy, Adult Fiction, and Young Adult with a focus on audiobooks.