We don't always get to meet our favorite authors face to face, but YouTube can be a nice substitute. These writers aren't just stacking up loyal readers but also subscribers! It's a place to hear your favorite authors give advice, writing insights and a little peek into their lives.
John Green
Channel: Vlogbrothers
700,000 subscribers
I'd be remiss not to include him on this list. John's vlogs with his brother Hank have received over a million views. His videos are where he announces cover designs, book titles and more.
Maggie Stiefvater
Channel: MaggieStiefvater
3,800 subscribers
Maggie posts everything from behind the scene looks at her book trailers to her own daily vlogs. You can even check out her vlogs from last year to get an author POV of her going on tour for Forever with fellow author, Tessa Gratton.
Jackson Pearce
Channel:JacksonAPearce
12,800 subscribers
Her channel has made waves since Jackson posted a video in response to Chik-fila-, but Jackson also posts about her daily adventures in life and writing with friends.
Her channel is home to the Sh*t Authors Say Video and the only place to see your favorite YA authors dancing to the Friends theme song.
Tahereh Mafi
Channel: Thmafi
360 subscribers
Tahereh doesn't post regularly but, this is where she announced some pretty exclusive news like her novellas and the title of Unravel Me. Plus, Tahereh has a video where she answers readers Facebook question in character.
Kiera Cass
3,300 subscribers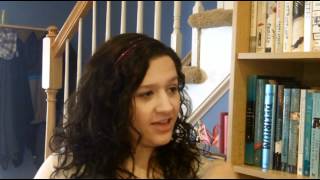 Kiera keeps her channel up to date with everything from little sketches to behind the scenes book and writing information. Cass has over 100 videos on her channel, so you will have plenty to watch.
Veronica Roth
235 subscribers
Veronica hasn't updated in a year and this channel only has a few videos, but where else can you see your favorite YA author jump into a bathtub of marshmallows with her agent ?


So, who did we miss ? Who are your favorite author on YouTube ?
I'm a lifelong reader who started blogging about YA books in 2011 but now I read in just about every genre!  I love  YA coming of age stories, compelling memoirs and genre bending SFF. You can find me talking all things romance at Romance and Sensibility.