"You won't even know you've crossed the line until it's way back in your rear view mirror." ― Barry Lyga, I Hunt Killers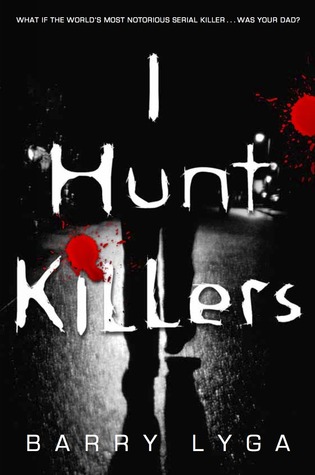 Release Date: April 3, 2012
Genre: Contemporary/Horror
Publisher: Little Brown for Young Readers
Pages: 359

Synopsis: What if the world's worst serial killer…was your dad?Jasper (Jazz) Dent is a likable teenager. A charmer, one might say.But he's also the son of the world's most infamous serial killer, and for Dear Old Dad, Take Your Son to Work Day was year-round. …In an effort to clear his name, Jazz joins the police in a hunt for a new serial killer. But Jazz has a secret–could he be more like his father than anyone knows?
The tagline on the front of this book pretty much tells you everything you need to know.What if the world's worst serial killer was your dad ? This is the situation for Jasper "Jazz" Dent and guess what ? Bodies are piling up up again. I Hunt Killers is a grotesquely humorous novel that will leave you screaming to the end and then begging for more.
The set up for the novel reminded me a lot of Criminal Minds, so if you are a fan of that show, you will enjoy this novel. As for me ? I stopped watching that show so I could sleep at night. I Hunt Killers is pretty much run on And I Must Scream andHigh Octane Nightmare Fuel. This is especially evident seeing as most serial killer victims are young women and the people who read YA are well….yeah. To soften the impact there is a healthy dose of black comedy thrown in, but the humor peters out towards the end.
Jazz Dent is an anti-hero and his self induced loneliness makes his narrative feel isolated and singular. He struggles to know if being a serial killer is his fate or his choice. I loved Jazz's witty male narration with an ambiguously evil undertone as he struggles to figure which side of evil he falls on. Riding on the impulses his father taught him, Jazz is a master manipulator. I can only imagine what he and Cassel from The Curseworker's series could get up to together.
There are some really interesting side characters added in the mix. I think I am in about 40 books since starting this blog and this is the first book featuring a black girl as the protagonist's (not the sidekick or supporting character's) love interest. I think the story could have been interesting from her POV .Connie is such a solid character, while her story isn't delved into you can see how she is apart of Jazz' existence. I loved this line when she snaps about Jazz brooding about how he could kill her:
"Do it. Stop threatening it and stop whining about it and just do it. But if you don't, then shut the hell up about it and let me be there for you and let me help you. Because if you don't your crazy father has really won…Think carefully Jazz, what are you going to say ? Because it it's more of this 'I'm too dangerous' BS, I might just kill myself to get away from it. And then where would you be ?"
Lyga is a master at infusing tension and emotion in to his writing, I was captivated by the story once it took off. If I ever do get to meet him I will have to side eye him with some of the horrific scenes in this book. I can only imagine the research that went into writing something like this. Additionally, I love a good Title Drop in a book and I really liked this one. It fit into the story perfectly.
I Hunt Killers is a cerebral thriller that will you have you carrying your mace and hiding the drain cleaner.
I'm excited for the next book, in fact I read the ARC, so I have get my hands on the finished version and of course can't wait to get my hands on the sequel.
*Thanks to Susan from Wastepaper Prosefor ARC
Amazon |Barnes and Nobles|Indiebound
I'm a lifelong reader who started blogging about YA books in 2011 but now I read in just about every genre!  I love  YA coming of age stories, compelling memoirs and genre bending SFF. You can find me talking all things romance at Romance and Sensibility.