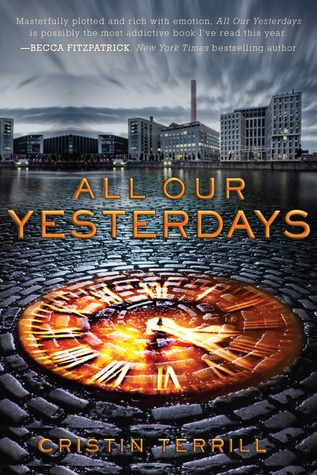 Release Date : September 3 2013
Genre : Sci-Fi/Thriller
Publisher : Hyperion Teen
Pages : 368
Synopsis : Imprisoned in the heart of a secret military base, Em has nothing except the voice of the boy in the cell next door and the list of instructions she finds taped inside the drain.
Only Em can complete the final instruction. She's tried everything to prevent the creation of a time machine that will tear the world apart. She holds the proof: a list she has never seen before, written in her own hand. Each failed attempt in the past has led her to the same terrible present—imprisoned and tortured by a sadistic man called the doctor while war rages outside . . . All Our Yesterdays is a wrenching, brilliantly plotted story of fierce love, unthinkable sacrifice, and the infinite implications of our every choice.
All Our Yesterdays has been on my radar since I heard it was one of the books on the 2013 Book Expo America YA Editor's Buzz Panel. It was described as "deceptively simple" and "more than a standard girl goes back in time to save the world."
This is a story that starts at the end. Em is a prisoner in
a secret government facility. Her only company is Finn, the boy in the cell
next to her. Now I know this might sound like Shatter Me byTahereh Mafi but don't let these first few pages fool you. Em and Finn have to escape and go back in time to their yesterdays (wink wink nudge nudge) and kill ' the doctor", the man who changed the world for the worst in order to save the future.…