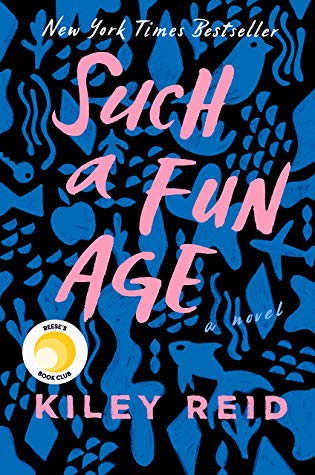 9 hours 58 min. | G.P. Putnam's Son | Adult Fiction | Release Date: 12/31/19
2020 has been kind of a meh reading year for me so I decided to switch it up with some upmarket book club-y fiction. This is one of those books where it's better to go in with as little information as possible. Such a Fun Age starts with 25-year-old Emira, a Black girl living in Philadelphia, being racially profiled while babysitting a white child. The book then follows Emira as she tries to figure out how to become a "real adult" and her boss, Alix Chamberlain, who starts noticing Emira in a new way after the incident.
This book started off kind of slow but it steadily builds into this addictive, complicated narrative about privilege, race and class with a few plot twists and turns along the way. Reid's writing is so carefully observed and veers into the humorous and even absurd.
I can see why Reese Witherspoon picked this for her book club because it is so discussion-worthy. I've found myself thinking about character motives and intentions long after I'd finished it. It has a satisfying ending but leaves you with some interesting questions.
I highly recommend this on audiobook. Narrator Nicole Lewis' has this remarkable ability to code-switch between the Black and white characters. Literally, every voice she did sounded like a different character. This is her only audiobook and I have no idea how she's not doing all the books.
I'm a lifelong reader who started blogging about YA books in 2011 but now I read in just about every genre!  I love  YA coming of age stories, compelling memoirs and genre bending SFF. You can find me talking all things romance at Romance and Sensibility.