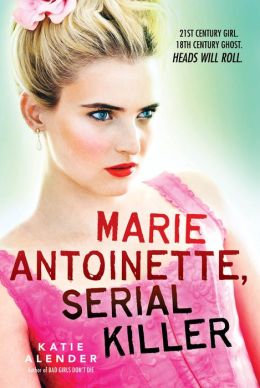 Release Date : September 24th 2013
Publisher : Scholastic Point
Genre : Paranormal Mystery/History
Pages : 304
Synopsis: Paris, France: a city of fashion, chocolate croissants, and cute boys. Colette Iselin is thrilled be there for the first time, on her spring break class trip.

But a series of gruesome murders are taking place around the city, putting everyone on edge. And as she tours the sights, Colette keeps seeing a strange vision: a pale woman in a ball gown and powdered wig, who looks like Marie Antoinette.

Colette knows her status-obsessed friends won't believe her, so she seeks out the help of a charming French boy. Together, they discover that the murder victims are all descendants of people who ultimately brought about Marie Antoinette's beheading. The queen's ghost has been awakened, and now she's wreaking her bloodthirsty revenge.
All around Paris the young, glamorous and elite are losing their heads . . . literally. The culprit? The ghost of Marie Antoinette. This means little to Colette Iselin who can't wait to start her class trip to Paris and get away from Toledo where her father has left her family alone and broke.
Soon the ghost of the beheaded queen begins appearing to Colette all around Paris. What does the ghost want? And could Colette be the next victim? She finds herself joining forces with a cute French tour guide and a few unlikely friends to discover what really happened to Marie Antoinette.
Despite the novel's murderous title the ghost aspect and gruesome murders are mostly played down, the story's first half focuses more on Parisian sites and setting as Colette and her classmate tour the city. I ended up Googling some of the locations to get a feel for them and Alender's descriptions are spot on.
Throughout the story, Colette struggles to cover up her family's financial situation among her wealthy friends. I did wish the story would have explored this a little more. Colette is constantly surprised by her friends displays of wealth and little of her characterization indicates what kind of person she was when her family was wealthy.
The novel gets more sleuthy towards the end and picks up at a thrilling and eerie pace. It's fun but overall predictable. The way the story navigates around historical landmarks and delves into alternate twist history tempts me to call this book Dan Brown Lite for the younger YA set.
A great standalone if you are looking for something fun to read for Halloween with just a few chills. A definite read for fans of history and all things Parisian.
The cover art for this book has a slight change, most notably the blood splatter.
*ARC received atBookExpoAmerica for review
.
1/2 of the blogging duo at Books and Sensibility, I have been blogging about and reviewing books since 2011.  I read any and every genre, here on the blog  I mostly review  Fantasy, Adult Fiction, and Young Adult with a focus on audiobooks.