"When you're twenty-one, life is a roadmap. It's only when you get to be twenty-five or so that you begin to suspect that you've been looking at the map upside down, and not until you're forty are you entirely sure. By the time you're sixty, take it from me, you're fucking lost."
― Stephen King, Joyland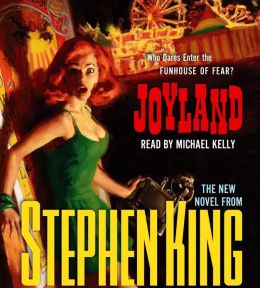 Release Date: June 4th 2013
Pages: 288
Hours: 7 hours and 33 minutes
Publisher: Hard Case Crimes
Audio Publisher: Simon and Schuster Audio
Yep, I'm reviewing an adult book. I've been listening to the Book Riot podcast lately where they discuss mainly adult books, and it's made me want to get into more adult lit. Now, I read a few of Stephen King's well known short stories like Children of the Corn and The Langoliers in high school. And while I never found the stories interesting enough to take on a full novel, I remember the stories and writing were good, so I figured I'd start my adult reviewing with Stephen King.
Devin Jones will never forget the summer of 1973. He was a "twenty-one-year-old virgin with literary aspirations" on the precipice of a break up with a girl he loved. On a whim, he decides to travel south and spend his summer working at Joyland, a North Carolina amusement park. As Devin becomes ingrained in the culture of amusement park life he stumbles into a murder mystery with a paranormal twist.
This novel is somewhat of a departure from King's latest bricks of novels like Under The Dome and 11/22/63 because it was published in paperback by a niche imprint for hard crime/crime noir fiction. Not that hard crime is a first for King, he published The Colorado Kid (which the SyFy show Haven is based on) with the same publisher in 2005. This kind of King novel is perfect for me because I'm not a big horror fan and could enjoy listening to the audiobook without throwing my phone in the freezer.
This novel reminded me a lot of Water for Elephants by Sara Gruen, which features a young man running away to join the circus. Of course in this book the circus is an amusement park, but the culture is very similar. We get a behind the scenes look at what happens beyond the show. Devin has to learn the Talk, the vernacular used by the people who are "carny from carny".

This book is not without the occult. There are psychics and ghosts at play, but it's not a major part of the story. When it comes to the murder I will say,I did figure out whodunit it pretty early on but that didn't ruin the experience of the story. King does an amazing job of building tension and creating some amazing stories.
I really liked the narrator for this audiobook, Micheal Kelly. He has the perfect youthful voice for Devin, but also does some amazing character voices and accents. There is a kind of gruff mean character with a Boston accent and when he does the voice he sounds nothing like Dev's voice.
A departure from my usual reading, but a story that kept me interested with fully realized characters I could hold on to. This book has a lot of potential for YA/ New Adult crossover. I think young people can relate to Devin as he considers his future and place in life.
Also, Stephen King makes a Harry Potter reference in this book. Which is kind of awesome?
Stephen King didn't release the ebook rights Joyland because he wanted to encourage people to go to bookstores. I think this is great, but I kind of cheated this by getting an audiobook, don't worry I went to a bookstore later to buy another one of his books.

I'm a lifelong reader who started blogging about YA books in 2011 but now I read in just about every genre!  I love  YA coming of age stories, compelling memoirs and genre bending SFF. You can find me talking all things romance at Romance and Sensibility.