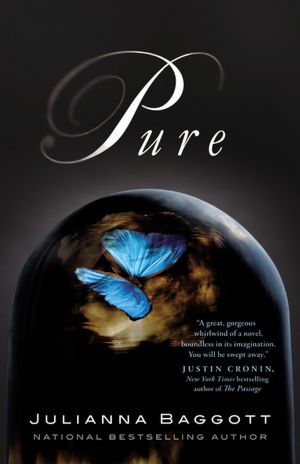 Publication Date : Feburary 8th 2012
Genre : Post-Apocalyptic
Pages : 431
Audiobook Length : 14 hours 9 minutes
Publisher : Grand Central Publishing (Imprint Hachette Book Group)
. . . Pressia barely remembers the Detonations or much about life during the Before. In her sleeping cabinet behind the rubble of an old barbershop where she lives with her grandfather, she thinks about what is lost-how the world went from amusement parks, movie theaters, birthday parties, fathers and mothers . . . to ash and dust, scars, permanent burns, and fused, damaged bodies. . .There are those who escaped the apocalypse unmarked. Pures. They are tucked safely inside the Dome that protects their healthy, superior bodies. Yet Partridge [feels] . . . Different. He thinks about loss . . . that this Dome has become a swaddling of intensely rigid order. . . When Pressia meets Partridge, their worlds shatter all over again.
Pure is the ultimate survivalist story
I started reading the galley of this book a few months ago and found its vivid descriptions and imagery a little dark; or as Kat said on Twitter "It makes The Hunger Games look like a Disney film." However, I'm glad I gave this book a second change.
Pure is one of the best post-apocalyptic novels I've read all year. It mixes what YA survivalist novels like Eve by Anna Carey and Under The Never Sky by Veronica Rossi have done, but in such a uniquely dark and unbound way. It takes the story of the protected "insider" meets the savage "outside world" and turns it completely on its head.
Seven years after a devastating detonation destroyed the world as Pressia Belze knew it, there are two type of survivors; the scared, fused Wretches who live in the harsh landscape without hope and the Pures who escaped into the Dome and wait benevolently from inside to re-emerge when the world has rebuilt itself.
Pressia and Partridge,a Pure who escaped from inside the Dome, are about to make a journey across the dangerous Wasteland; filled with mutated creatures, blood-thirsty soldiers, and the not so benevolent eyes of the Dome.Together they they will discover that nothing is as it seems.
The world building in this book is phenomenal. We actually feel the anguish of Pressia and the others living on the outside of the Dome as they deal with tier deformities and trying to survive.
I found the surreal elements and fearsome images reminiscent of Stephen King. Which is also to say that the characters also jump to a lot of correct conclusions. After a while you just kind of have to go with it. There are just so many hold your breath moments in this book. It's not just the romance or the macabre description but it is the realizations, motivations and choices the characters make.
The characters in Pure move independently from each other, their development and stories rely solely on their own understanding of the world they live in; because of this there is just so much angst and tension between them. The novel features a total of four POVs, these different perspectives and hardships helped add to the intricate detail of the story.
The audiobook featured some amazing performances. Usually I'm not a fan of audiobooks with more than one voice actor, but it worked well here. I really enjoyed El Capitan's voice actor and Khristine Hvam is really good with male voices. Although I did a cringe a little on the inside when a deep-voiced male actor was performing a female voice.
Warning ! This book does get dark and has its fair share of Nightmare Fuel. There were parts where I was like WHAT DID I JUST READ ? WHAT THE WHAT ?!? I'm a very squeamish person and I was still able to enjoy it, so it wasn't that bad. It really adds to the story.
Julianna Baggott has a creative style and unbelievable imagination. Pure is a sophisticated post-apocalyptic survivalist journey story filled with tough choices and hardships.
Sidenote : The film rights have sold to Fox 2000. I think this book has great crossover appeal. It's not what you expect when you think YA dystopian.
1/2 of the blogging duo at Books and Sensibility, I have been blogging about and reviewing books since 2011.  I read any and every genre, here on the blog  I mostly review  Fantasy, Adult Fiction, and Young Adult with a focus on audiobooks.